Start Your Engines
Boatwrench is an authorized dealer for many lines of new outboard engines and we currently have several in stock from Evinrude and Mercury. We specialize in service for all and are certified technicians with significant experience to service your engine once you have purchased. We have been an Evinrude Dealer for 18 years, and 30 years for Volvo & Tohatsu. When it comes to inboard engines and outdrives there is no equal in Central Florida in regard to available inventory and experience for rebuilding and servicing. Please call us and speak to our experts and we will help you determine the best options to maximize your boating experience on the water.








Inboards & Inboard/Outboard
Rebuilding and repowering inboard/outboard engines is our specialty. We have been building drives since 1988. We carry a wide selection of used engines and even more outdrives to choose from. We build drives for Volvo Penta, Boat Builders (Regal & Chaparral), other marine shops, and private boat owners. We specialize in ALL VOLVO PENTA DRIVES (with 2 & 3 year warranties), and are known as Central Florida's source for these products. We maintain a significant selection of outdrives and ship to just about any location. Check out our inventory online or simply call us and we will get you the answers you need. Click the picture to go to the store.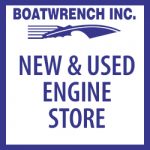 Outboards
At Boatwrench we carry in stock new outboard engines from Evinrude and Mercury. We are also an authorized dealer for Suzuki and Tohatsu. We sell and service outboard engines and maintain expert technician status for all our lines. With competitive pricing and the best reputation in Central Florida for service we are the place to choose when thinking about re-powering your boat or starting new. Come see us in our showroom or shop online in our store. Click the picture to go to the store.